Startup Thursday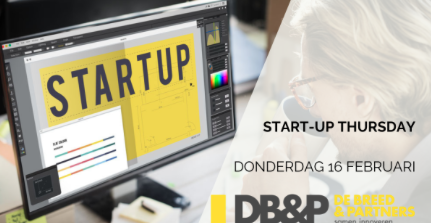 Wil jij samen met een ICT expert sparren over de (financiële) vraagstukken en/of groeiambities van jouw start-up? Meld je dan vrijblijvend aan voor Start-up Thursday op donderdag 16 februari. Tijdens dit digitale 1-op-1 adviesgesprek ga je met een expert in gesprek over de innovatie roadmap van jouw onderneming!
Meer informatie en aanmelden: https://debreed.nl/start-up-thursday/
Wat is Start-up-Thursday?
Wij willen start-ups helpen groeien! Daarom organiseren wij iedere derde donderdag van de maand Start-up Thursday. Hier krijg je als ondernemer de kans om drie kwartier lang gratis in gesprek te gaan met een DB&P consultant over financieringskansen of vraagstukken die spelen binnen jouw start-up.
Voor wie is Start-up Thursday?
Start-up Thursday is voor jonge ondernemingen, ingeschreven bij de Kamer van Koophandel, die op zoek zijn naar funding of antwoorden op innovatieve vraagstukken. Ben je al verder in de levensfase van je bedrijf en realiseer je minimaal € 250.000 omzet per jaar? Schrijf je dan in voor Scale-up Tuesday!
Wat kun je verwachten?
Wat kun je verwachten van het digitale adviesgesprek? Tijdens Start-up Thursday zijn diverse consultants aanwezig, die spreken vanuit verschillende expertises en ruime ervaring hebben met het mogelijk maken van groei en innovatie. Na de voorstelronde is het woord aan jou om een vraagstuk binnen de start-up en/of de financieringsbehoefte toe te lichten. Vervolgens sparren we met elkaar over jouw vraagstuk en bespreken we mogelijke oplossingen.
Related Events