Ready for your startup to take centre stage?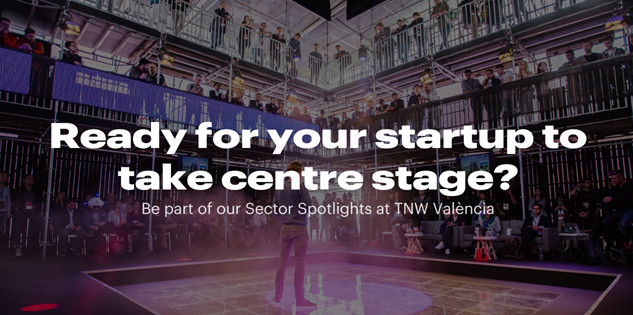 Ready to get up on stage and present your startup at an investor-lead Sector Spotlight at TNW València on March 30 & 31 at la Marina de Valencia?
How can you and your startup participate?
TNW is selecting 1 company from the TNW for Startups program to battle it out against 2 more startups as they present how their technology will disrupt their sector. During this session you will get the opportunity to present your startup in front of investors in that sector and the TNW Valencia audience where they will take a vote to determine who gets to move onto the Pitch Battle Finale.
Are you our next Pitch Battle winner? Register for the TNW for Startups program before February 20, 2023 for the chance to be considered to be part of the Sector Spotlights at TNW València!
Spotlights and investors you can expect
Spacetech
Rob Desborough • Managing Partner Seraphim VC Space Accelerator
loT
Juan Lopez • Partner · Kibo Ventures
Mobility
Marcus Behrendt • Managing Director · BMW i Ventures
Juan de Antonio • Founder & CEO · Cabify
Deep Tech
Fannie Delavelle • Europe Manager · Bpifrance
Sébastien Lefebvre • Partner · Elaia
InsureTech
Hélène Falchier • Partner · Portage
Data and Deeptech for Climate Transition
Alberto Gomez • Managing Partner · Adara Ventures
Related Events