Find the perfect co-Founder
October 8, 2022
eur145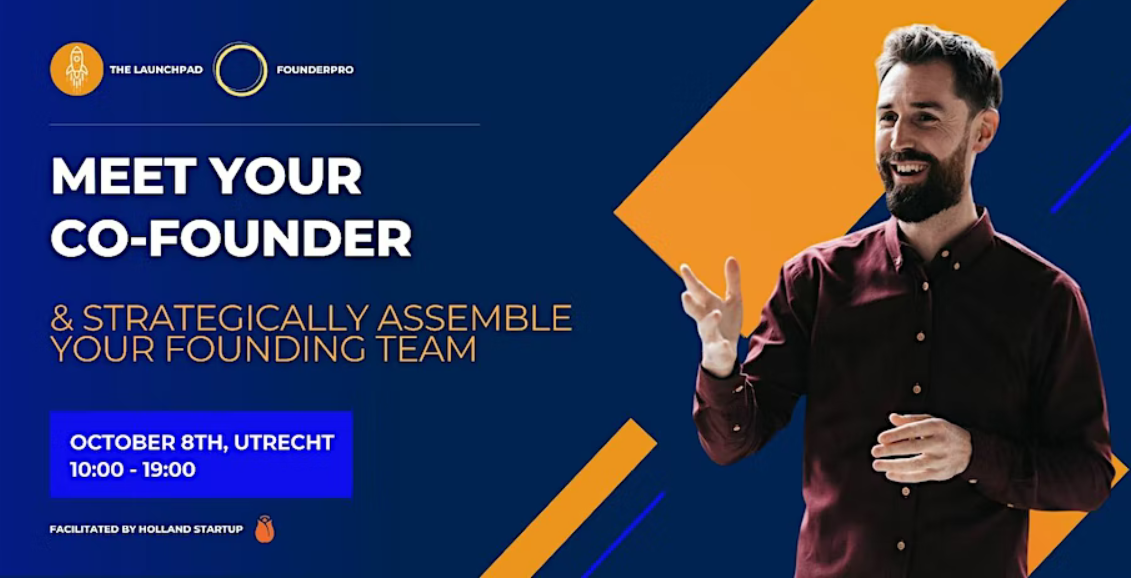 About this event
Full day session, incl. lunch & dinner.
This session is for you if you want to spend a day working with a group of like-minded people to see if there is a co-founder match and learn what to look for and consider when forming a partnership.
We'll help you solve the following problems:
– I can't find a co-founder
– I don't know what I need in a co-founder
– I can't seem to convince people to join my founding team
– I don't know how to properly evaluate a co-founder candidate
– I'm not sure a VC will fund this founding team
– I don't know what to put on paper before we start our partnership
You will walk away with the following tools:
– A list of potential co-founders
– Founder DNA profile
– Why work with me pitch
– Compatibility check
– Founder prenup
– How to work with me
Who for?
This training is for you in any of these scenarios:
– You are looking for a co-founder for a new venture
– You are searching a co-founder to join your existing venture
– You have potential co-founder and you want to make sure you are a good fit
Finding the right co-founder is hard!
And if you've been looking for a co-founder, you've probably realized that it's more difficult than you initially thought.
If you're looking for a co-founder, you've probably found it harder than you expected.
There's no one place to find good co-founders, so we're hosting a full-day event for motivated future founders to work and learn together.
You'll work with a group of potential co-founders under Norbert and Iselde's guidance.
We'll also help you define what you want from a partner in a few years. How do you gauge a 5- or 10-year commitment? Long-term compatibility is important. You may know what skills you want, but what about values, stress tolerance, and productivity?
Asking the right questions is difficult, especially in the right way. Starting a business without assessing compatibility is risky.
Increase the potential of your startup
With the right partner, you reduce startup risk. Multiple-founder startups raise 30% more money and grow 3x faster.
65% of startup failures are due to co-founder conflict, so choose wisely. Any seasoned investor has had a co-founder situation blow up in their portfolio, so they always evaluate compatibility.
Finding the right partner is key to success. It'll boost your startup's value and make the journey more enjoyable.
Why haven't you found a co-founder yet?
So far, this has probably been organic. You've asked around, posted on LinkedIn, and searched forums.
Lack of structure and process. You didn't evaluate yourself and your partnership needs first, and you're looking for skills in the other person. This approach is ineffective, as you've seen.
Change is needed!
The secret to finding the perfect co-founder
Finding your professional soulmate requires a roadmap. For the first time, there is a dedicated framework to help you find the perfect co-founder AND a full-day event to put those learnings into action in a large group of potential co-founders.
During a full day networking & training, you will:
– A chance to meet your co-founder;
– Get a better understanding of your own founder DNA;
– Create a clear profile, describing exactly what you're looking for in a partner;
– Discover the best way to create a pipeline of potential candidates;
– Go through a step-by-step playbook to figure out who is your best match;
– Lay the groundwork for a great partnership with a startup prenup.
Hosted by experts
Iselde van Beurden – Founder Recruitment Expert
Iselde has recruited over 40 founders and co-founders. Iselde will help you learn how to ask questions, and how to discover your co-founders true intentions.
Norbert Kleijn – Team Dynamics Expert
With Norbert's help, you will be able to define exactly who you are as a founder and what you are looking for in a partner. You will also learn how to thoroughly evaluate a potential co-founder and avoid common pitfalls of startup partnerships. Norbert is a Team Dynamics Expert with 15+ years of global experience in tech and startups. He has bootstrapped multiple companies, worked with the world's top VC's and spent 5 years at Google where he managed teams across the globe.
Related Events