Emerce Deep dive User-centric Research (online)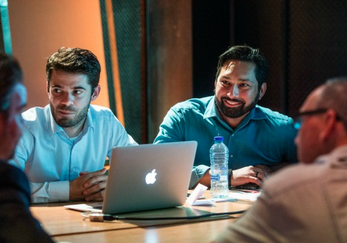 Efficiënt naar een betere klantbeleving
Wil je klanten of gebruikers vaker betrekken bij productontwikkeling, maar krijg je het niet van de grond? Misschien is er weerstand binnen de organisatie of is er geen tijd of budget voor, ondanks de klantgerichte strategie. Na deze deep dive zijn er geen obstakels meer! Je leert user-centric te werken. En de klantervaring continu te verbeteren door data en kwalitatieve informatie te verzamelen over de pijnpunten en behoeften van je doelgroepen.
Leer hoe je snel inzicht krijgt in verbetermogelijkheden
In deze deep dive krijg je eenvoudig toepasbare methodes om de belangrijkste inzichten over je doelgroep te verzamelen. Bijvoorbeeld om nieuwe ideeën te toetsen in de markt, of om sneller de business doelen te realiseren door knelpunten en obstakels bij je klanten weg te halen. Leer van experts hoe je hiervoor succesvol user-centric onderzoek doet en pas dit direct toe op je eigen praktijkcase.
Na deze deep dive weet je:
Welke methodes je op welke momenten kunt toepassen om data en kwalitatieve inzichten over je doelgroep te verzamelen
Hoe je de waarde van concepten kunt testen in de markt
Hoe je een effectief gebruikersonderzoek opzet en wat daarbij de valkuilen zijn
Voor wie is deze sessie geschikt
Alle professionals die binnen hun organisatie (deel)verantwoordelijk zijn voor CX, UX, marketing, innovatie, product management of productontwikkeling.
Programma 
9.00 – 9.30 Introductie en inzicht in elkaar cases
9.30 – 10.00 Problem framing en aannames
10.00 – 10.30 Onderzoeksmethodieken
10.30 – 10.45 Koffie break
10.45 – 11.15 Onderzoeksplan
11.15 – 11.30 Prototyping
11.30 – 12.00 Interviewtechnieken
Docent
Marieke Morsch is innovation lead bij Online Department en heeft veel ervaring in het borgen en opzetten van innovatie- en design processen binnen grote en complexe organisaties en het faciliteren van design- en discovery sprints.
Related Events