CVN workshop Intrapreneurship
February 9, 2022 @ 2:00 pm

-

4:00 pm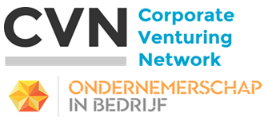 Join this interactive on-line CVN workshop on February 9th from 14:00 -16:00, which we organize together with Professor Josette Dijkhuizen, author of several books on Entrepreneurship. The theme of this event will be "Intrapreneurship – Unlock the potential."
Click here to register
Intrapreneurship – entrepreneurial behavior in organizations – is a crucial ingredient of Corporate Venturing. What is your role in strengthening intrapreneurial behavior? How can you create the intrapreneurial mindset in your team, department or organization? These are the key questions that will be addressed in this workshop. There will also be room for reflection and sharing ideas with other participants.
About Josette Dijkhuizen. Josette works as an Honorary Professor of Entrepreneurship Development at the Maastricht School of Management. She coaches and advises entrepreneurs and boards of companies on 'entrepreneurship': strengthening entrepreneurial skills and practical advice on making an organization more efficient and effective, and more innovative. She is the author of several books and has developed an intrapreneurial scan for organizations. Josette was appointed as Women's Representative in the Netherlands delegation to the United Nations General Assembly and she spoke at the General Assembly in New York about women's entrepreneurship.
Please register for this event (click here) and invite your colleagues for whom this topic is of interest.