Citizen Data Hackathon – Eindhoven StadsLab
March 5, 2022

-

March 6, 2022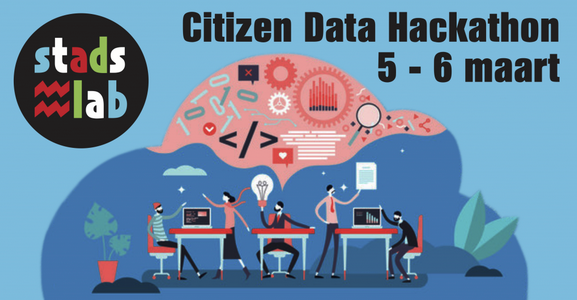 Making tools for curious people – learning to dance with data
Date: 5-6 March 2022
Location: Stadslab Eindhoven – Gasfabriek 6 (NRE)
Help Citizens observe, research & develop:
– Participation in the digital realm
– Creative sustainable transitions in circularity
– Cultural futures for everybody
Can you think of AR to improve neighborhood safety, or a social app to share resources? Or make a local network for optimal human connectivity, or pimp you bike for data transport?
Creative concepts and smart applications is what we expect to see at the end of this Hackathon. And you can contribute to make this a life-changing experience!
Experts and coaches present and explain how data can be implemented to make your ideas a reality.
Boldly go where no one has gone before!
Prizes are € 1000 in cash!
1st prize: € 600
2nd prize: € 400
Goodie bags, gadgets and vouchers for all.
Examples of Tools for Citizen Data:
Digital Social Innovation Ideas Bank (PDF 4 MB)
Citizen Data Lab addressing local issues through participatory data practices
The Copenhagen Wheel bike wheel with sensors
Roadbounce detector register holes in the road
Aireas Air measurement real time sensor data
Participate and join this endeavor to explore, build and hack together with fellow engineers, designers, artists, entrepreneurs, professionals, students.
Free drinks (lots of coffee), lunches and buffet
Register free as an individual (teams are allowed) to claim your seat and share your competencies here.
Program Saturday March 5:
10:00 Introduction theme and challenges
11:00 Concepts & team clustering
12:00 Preliminary hacking
13:00 Project pitches / lunch
14:00 Continued hacking
16:00 Lightning talk
18:00 Eat (buffet), drink, hack, sleep
Program Sunday March 6:
10:00 Prolonged hacking
13:00 Eat, drink, hack
16:00 Prototype presentations
17:00 Prize ceremony & drinks